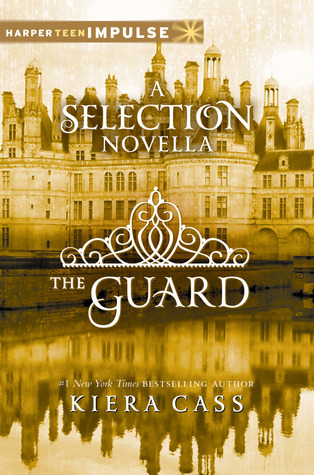 Description:
Before America Singer met Prince Maxon . . .
Before she entered the Selection . . .
She was in love with a boy named Aspen Leger.
Review:
The Guard by Kiera Cass

I have never really liked Aspen. So, I delayed as much as I could reading this novella. Now I will say that by the end, I didn't dislike Aspen as much as I did before, but I still don't like him.
I liked that Aspen isn't such an ass, like I had originally though. He wants to protect those he loves, which in his mind means pushing them away a lot. I don't like it, but it makes him more understandable.
Oooh... More secrets. Between the King's Office and the Mail room, many secrets are being shared and destroyed. I wonder what else we'll learn in The One.
Oh how I wish that Aspen would go after Lucy. I think they would make such a cute couple, especially since he seems to make her calm, to ease her nerves.
I think my biggest problem with this story is how blind Aspen is, how whiny he is, and how judgmental he is about Maxon, especially when he is doing a lot of similar things.
Overall, this was a good story. I definitely recommend this novella.
Happy Reading!
Cana