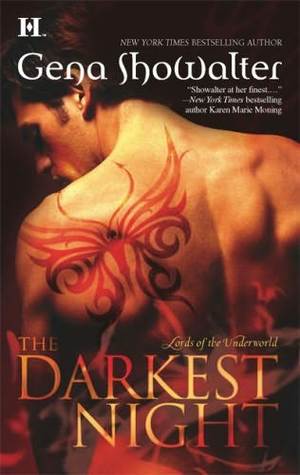 Description:
His powers - Inhuman...

His passion - Beyond immortal...
All her life, Ashlyn Darrow has been tormented by voices from the past. To end the nightmare, she has come to Budapest seeking help from men rumored to have supernatural abilities, not knowing she'll be swept into the arms of Maddox, their most dangerous member -- a man trapped in a hell of his own.
Neither can resist the instant hunger than calms their torments... and ignites an irresistible passion. But every heated touch and burning kiss will edge them closer to destruction -- and a soul-shattering test of love...
Though they carry an eternal curse, the Lords of the Underworld are irresistibly seductive -- and unimaginably powerful...
Review:
The Darkest Night by Gena Showalter
First off, I LOVE Gena Showalter's books... I've been addicted to them since the first time I read Ecstasy in Darkness. Now with that being said, I LOVED this book! Definitely a new favorite of mine!
Ashlyn is such a strong character... Then again, she kinda had to be. Being isolated due to her gift, and having no family to care and love her, she had to be strong. Otherwise, she would have stopped living. But she is more than just strong of spirit. She is strong in how she loves, how she lives, and in how she determines what will happen in her life. I like that about her.
Maddox is a man burdened with guilt, regret, and violence. But with the "gift" that Ashlyn, some of that changes. Yes, he still struggles with all those things, but he doesn't let those things control him.
I like the idea that the demon mark is a butterfly. Not something I would normally think of as demonic. But, maybe you need something beautiful to give hope for something that is both dark and dangerous.
Now, I will say that there are some confusing things. We start out with Pain, Violence, Death, Promiscuity, Disease, and Wrath. Yet half way through the book, we discover that there are also Doubt, Misery, Destruction, Lies, Secrets, and Defeat. That are a lot of demons to keep track of, especially when they keep switching between their names and their demon's names.
The idea of the institute and the hunters definitely add something. An organization that feels like they are helping save the world against evil is not unusual. The fact that the organization has started to loose its moral compass isn't unusual either, but the idea that this is an ancient one that has turned scientific is. They still seek to rid the world of evil, but testing and experimenting is something new, fun, and exciting.
I love the use of Greek mythos. Stories that I grew up reading have now become so much better when Ms. Showalter writes it out.
I love how this story feels like a very adult Beauty and the Beast. I love that story, so I kinda automatically love this one.
The search for Pandora's box seems to be what will drive this series (besides the hot sex). I'm looking forward to seeing that storyline to the end.
Overall, this is a great story. I'm looking forward to reading the rest in this series! I highly recommend it.

Happy Reading!
Cana